MEANING OF ARCANA OF THE TAROT
20 - Judgement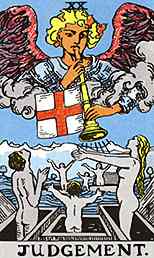 This card may connote a life well led, or suggest rewards for past efforts, resolution, release and renewal. Reversed, it may mean momentary success, loss or bitterness and fear of death. Its influence is weakened by the proximity of the Devil, the Wizard or the Wheel.
The Judgment involves radical change, resurrection to new life. Work (or life) well done. Willingness to start something new. Good judgment and discernment. Creative power and influence over family and career. Ability to forgive. Awakening. Favorable court ruling.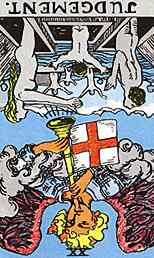 Judgement invested:
We have, among others, bad news, condemnation, excess liability, guilt, lost lawsuits, inability to understand past events, divorce, ignore the inner voice.
Means spiritual hesitation, weakness, bad judgment or wrong decision. Illness, separation. Adverse court ruling. Error on oneself and others. Decision postponed.