MEANING OF ARCANA OF THE TAROT
10 - Wheel of Fortune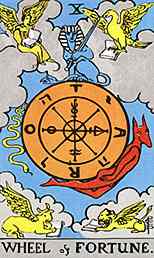 Symbolizes destiny and the eternal processes of human existence. Assumes cause and effect, the results of past actions, the wisdom of experience. Denotes a new life, a creative breakthrough or wealth. Reversed indicates excessive love for possessions, a failed company and difficult changes.
The Wheel of Fortune shows change, evolution, success, good fortune, and destiny. Happiness, abundance. New conditions. Abundance, growth.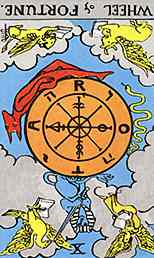 Wheel of Fortune invested:
These are sudden losses (which the wheel takes), disruption of normal course of events, unexpected and unpleasant facts.
It means the transformation will be difficult but will happen anyway. Delayed progress, relapse.