MEANING OF ARCANA OF THE TAROT
15 - The Devil
Powerful and negative card. It may involve carnal excess, indulgence, greed, destruction and sudden and inexorable events. It also indicates energy, humor and sensuality, and its outcome may depend on other cards. Reversed, it can be favorable, it means liberation and healing.
The Devil manifest destiny (good or bad). Power of seduction, blind impulse, temptation, obsession. Sexual deviation. A religious state of mind. Uncontrolled carnal passions.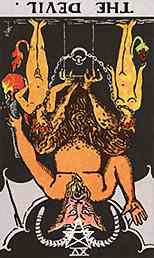 The Devil invested:
These may be feelings of hostility, the evil done with intent, desire for revenge, deep grudges, anger, physical assault, remain in the darkness of the soul.
It means a damaging card, doom, misuse of strength. Weakness, blindness, disorder. Malefic effects. The pathetic human condition which prefer the illusion to truth.