MEANING OF ARCANA OF THE TAROT
19 - The Sun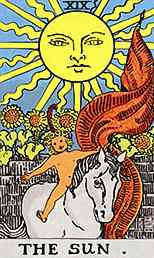 Success and happiness are the themes of this card. It can denote health, opportunity, success through energy-especially in the arts and the sciences-, gratitude and wealth. Reversed is weaker, but never strongly negative. It can mean the need of self-knowledge or lack of self-confidence.
The Sun is the glory. Material happiness. Happy marriage or relationship, collaboration. Success. Placer, energy, motivation, inspiration.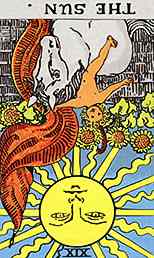 The Sun invested:
These include feelings of loneliness, anger, excess energy, burn situations, take care in excess of others, vanity, think yourself superior to others.
It means discomfort, pretense, arrogance, vanity. Commitment or lost work. Groping in the darkness, disorientation. Desire to appear.