MEANING OF ARCANA OF THE TAROT
2 - The Priestess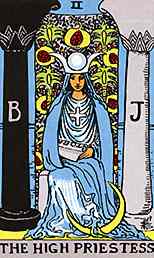 It is a card of deep mystery and duality, the Priestess may denote insight, great artistic talents and creativity, thirst for knowledge and desire for independence. Reversed may be assumed by developing skills, fear of commitment, hypocrisy and problems in the physical and emotional relationships.
The Priestess means patience, silence, discretion, reserve, meditation, modesty, resignation and piety. Considered decision.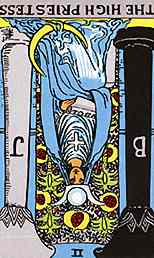 The Priestess invested:
These can be jealousy, fear of the unknown, inaction, and lack of confrontation, concealment of the self-truth, the sterility, and the inaccessible.
It means craftiness, hidden agendas, spite, laziness, intolerance, fanaticism. It becomes heavy and passive, it is a burden. Delay, tension and awkwardness in relationships. Immediate decision