MEANING OF ARCANA OF THE TAROT
14 - Temperance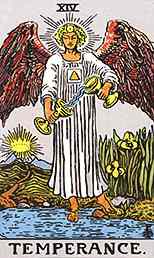 This card indicates moderation and compromise, or even temperament and humanity, or well, spiritual and material harmonization, radiant energy, inspiration and creative genius, often accompanied by a marriage wealth. Reversed indicates the ill-advised action, the clash of interests and emotional instability.
Temperance means careful consideration, patience, moderation, adaptation, composure, reflection. Patience uniting two opposites, combining thoroughly. Good marriage. Working in harmony with others, management ability. Something is being prepared. Great talent and creativity. Fighting for transcendence through work.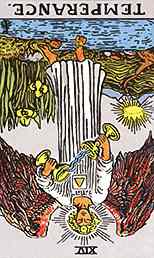 Temperance invested:
Among the highlights we can mention anxiety, impatience, feelings of frustration, sterility, difficulty waiting for things to mature, alcoholism.
Means disorder, conflict, bad combination, fights. Possibility of shipwreck. Disorders.