MEANING OF ARCANA OF THE TAROT
12 - The Hanged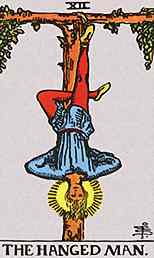 The matter of this card is the willingness to sacrifice, which brings difficulties; perhaps renunciation of intellectual superiority or hatred. It may involve vigor, foresight, a spiritual decision to behave calmly and a hidden power. Reversed, it may mean useless sacrifice, selfishness and irresponsibility.
The hanged, means strength, wisdom. Self-imposed limitations. Initiation test. Redemption through sacrifice, loss. Prophetic power. Suspended decisions. Election requires contemplation.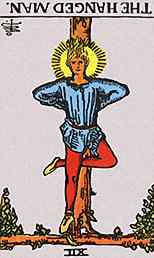 The Hanged invested:
Among these we may find the feelings of loss, depression, absurd sacrifice, diseases of the soul, crying, inability to release the anxiety states, drugs, solve pending issues.
It means arrogance, egotism, resistance to spiritual influences. Materialism. Wasted effort. False prophecy. Failure. Lack of boundaries, lack of candor, lack of sacrifice.