MEANING OF ARCANA OF THE TAROT
18 - The Moon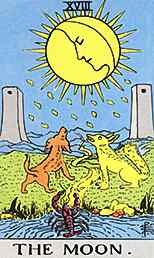 This card has strong links with the unconscious. It may involve intuition, imagination and creativity, but also uncertainty, fluctuation, disappointment and despair. Reversed, its effects are weakened. It can represent to weather the storm and achieving success, but also an emotional crisis.
The Moon manifests intuition, threshold of a major shift, difficult and dark road, and development of psychic powers. Navigation, experimentation, drudgery.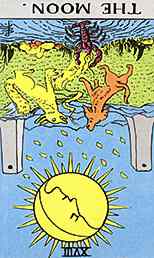 The Moon invested:
These can be panic, phobias, hiding and lurking danger, gossip, slander and libel, the lunatic behavior, ignorance of actions.
It means unseen dangers, hidden enemies, hallucination, delusion, hysteria, disorientation. Instability, lies, cheating, false knowledge, neurotic character. Scandal, secret is made public, blackmailer.